WANT TO SECURE YOUR PROPERTY?
GET YOUR ONLINE QUOTE TODAY
CLICK HERE TO BEGIN
Our range of security systems in Bromley provides practical solutions for protecting your property, whether residential or commercial. Our security solutions are installed to the highest standards, always meeting safety regulations. You can always be confident the services you receive are professional, efficient, and effective.
So, whether you are looking for fire extinguishers, intruder alarms, CCTV monitoring systems, access control, or door entry systems, we can help. By choosing us, you can rest assured you are in safe hands. We provide a full service, all the way from design, to installation, to maintenance. For us, no job is too big or small; we provide solutions across the whole spectrum of fire and security. 
A Reliable Security Company in Bromley
Here at Aegis, we take pride in our exceptional customer service. You can always rely on us to complete each job to the highest standard with you, our client, in mind. All our security solutions have been rigorously tested before installation, meaning they are always in effective working order. We have years of experience and skills. So, when we design security systems, we know what our clients want (and we always deliver). Find out what previous clients think about our security systems in Bromley.
What's more, all of our security solutions in Bromley are fully tailored to your home and business. We design and install the best security solution for your individual needs, meaning your home is protected most safely and effectively. So, if you are searching for security systems in Bromley, look no further.
Who are Aegis?
We are Aegis Security Solutions, based in Bromley, founded with one straightforward principle; to provide the right solution for your specific requirements. We understand and appreciate that our diverse client base has unique needs. We continually partner with stakeholders to offer a genuinely bespoke security system service throughout Bromley and South East London. 
The experience of our fantastic team's customer service, plus our extensive product knowledge, means that our recommendations are always backed up by real expertise. We supply a vast range of security solutions throughout commercial and residential properties. From intruder alarms to CCTV monitoring systems, we always provide the most cost-effective security solution for each situation.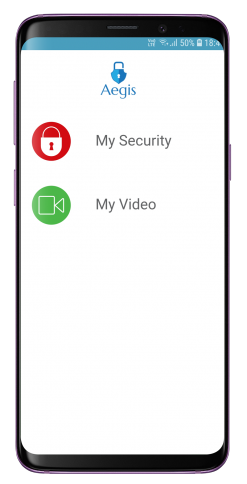 Supplying Wireless Security Systems In Bromley
Want to enhance your CCTV security system? Our innovative smartphone app is here to do just that. Our bespoke app is specially designed to send you warnings, view your CCTV remotely, receive security alerts, and control your intruder alarm.
Our wireless security system even works as a video doorbell, meaning you can answer a knock at your front door from your smartphone or tablet! Our wireless security system is compatible with iOS & Android, meaning you can manage your CCTV security system on various devices.
We Provide Quality Security Systems For Any Property
Commercial
At Aegis Security Solutions, we bring effective security solutions to commercial premises throughout Bromley and surrounding South East London. We design and install electrical security, providing intruder alarms and access control systems for commercial properties in Bromley.
Residential
We are leading installers of residential security systems. We design, install and maintain access control systems, CCTV monitoring systems, and intruder alarms throughout Bromley and surrounding areas. We are committed to consistently providing cost-effective security for any situation.
Maintenance
At Aegis Security Solutions, we provide competitive maintenance packages to help achieve your security systems' best performance and longevity. We help residential and commercial clients achieve ultimate security whilst keeping costs down.
HAVE A QUESTION?
GET IN TOUCH
If you have any questions regarding our security systems, get in touch to find out how our team can improve the security of your premises. Our friendly, experienced, qualified team are always on hand to assist you. Receive a free, no-obligation quote today!